All Natural Cutting Board Care
A benefit of wood and bamboo cutting boards is that you can clean and maintain them using all-natural, inexpensive household items. You may already have cutting board care essentials around your home.
Dish Soap
Lemons
Salt
Vinegar
Baking Soda
Coconut Oil (fractionated is best)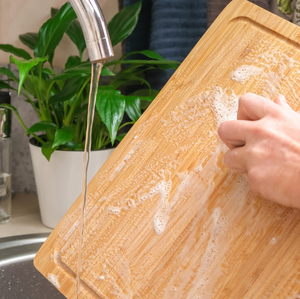 How to Care for a Wood Cutting Board
Knowing how to care for a wood cutting board starts with cleaning it properly.
Never wash your wooden cutting board in the dishwasher or leave it to soak.
Depending on what foods come into contact with your cutting boards, hand washing with a sponge, unscented dish soap and hot water after each use is usually enough to keep your cutting board germ-free. Make sure to wash both sides so the wood is uniformly wet and dry to prevent warping.
After washing, dry the cutting board with a towel and then lean it on its long edge or place it in a drying rack to allow it to air dry completely and evenly. Only place it flat on the countertop once it has fully dried.
If you use the board to chop up meat and fish, take your wood cutting board care routine further to ensure it's sanitized. This is best accomplished with vinegar, which can be sprayed lightly over the board's surface or wiped on with a clean cloth. Once dry, your cutting board will be disinfected, and any odors should disappear.
Plastic Cutting Board Care
Over time your cutting board might develop a strong smell, especially if you love to cook with onions and garlic. Vinegar neutralizes odors, but if you really want to freshen things up, rub the cut side of half a lemon over the board and dry with a paper towel.
You have a few wood cutting board care instructions to choose from for deep cleaning build-up or stains that regular washing leaves behind.
Use a damp cloth to rub salt over the cutting board's surface. If the board is dirty and stinky, lemons or vinegar work with salt to eliminate smells.
Scrub the board with a paste made by mixing baking soda and water.
After deep cleaning using any of these methods, rinse thoroughly, towel dry and air dry.
Seasoning Bamboo & Hardwood Cutting Boards
Seasoning your cutting board keeps out moisture and protects it from warping, scarring and bacteria. If your board doesn't come pre-seasoned, you should give it a protective coating of oil before using it for the first time. Reapply whenever it starts to look dry and water absorbs into the surface during washing rather than beading up.
To season, rub oil over every part of the board using a clean cloth. Let it sit for 24 hours, and then wipe off any excess. 
Mineral oil can contain toxins, and high-fat oils like olive oil can turn rancid. Fractionated coconut oil is recommended because it's all-natural, non-toxic and highly shelf-stable. It won't go rancid because the refining process removes impurities.
Cheese Board Care Instructions
Since cheese boards are typically wood boards, cheese board care instructions are the same as cutting boards.
If your cheese board is made of another material, such as slate, hand washing with hot soapy water is probably enough to clean it sufficiently. Avoid using acidic liquids like lemon juice and vinegar, which will damage many surfaces.

Plastic Cutting Board Care
Plastic cutting board care is easy – just run it through the dishwasher. However, over time, plastic can scratch and stain, and the dishwasher is no match for stains set into cuts – and salt, vinegar and baking soda won't help you without some backup. Try one of these methods for stubborn stains:
Your first option is to douse the board with vinegar and let it sit for five minutes. Wash it with soap and then scrub it with a paste of equal parts baking soda, salt and water.
Mix a few tablespoons of baking soda with a tablespoon each of dish soap and hydrogen peroxide. Leave the mixture on the stain overnight and wash it in the morning.
Shop Now
Shop Cutting Boards & More At Smirly
Now that you understand cutting board care, it's time to find the right board for your kitchen! Smirly has high-quality end-grain walnut and sustainable acacia hardwood cutting boards, bamboo boards in multiple sizes and plastic cutting boar sets. Each type of board features unique and thoughtful details that make kitchen prep and serving even easier.
Our cutting boards also make great gifts for housewarming parties, weddings or anniversaries. With so many to choose from, you're sure to find the right board for any occasion! Find your next board for prepping, entertaining, or gift-giving from Smirly today!